Johnny Chan and the Poker Superstars Tournaments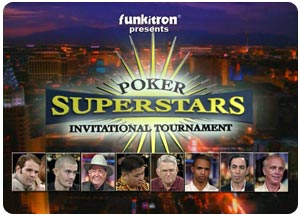 Johnny Chan has played in all three of the Poker Superstars Invitational only TV Tournaments, and all three times he has made it to the semi finals or finals.
This poker tournament is an invitational only, televised series of poker games that includes some of the biggest names in poker.
At the start of the series, the players compete against each other in a series of elimination matches. The players receive points if they finish in the top spots. After several rounds of the elimination matches those players who have the most points go on to the next level. When the field has been narrowed down to 16 players, the players are given poker chips based on how many points they have accumulated. When they reach the "Super Sixteen" the players are playing for spots in the next round. Prize money is given not only to the overall tournament winner, but also to the winners of the individual matches.
In the Poker Superstars Invitational Tournament 1, there were only eight players invited to play. Along with Johnny Chan, the other legendary poker players that were invited to compete included, Doyle Brunson, T. J. Cloutier, Barry Greenstein, Gus Hansen, Phil Ivey, Howard Ledderer, and David "Chip" Reese. Each of these players paid $400,000 to enter into the tournament. The grand final winner would walk away with $1 million in prize money just for that game alone. Johnny Chan, placed second in this tournament, losing to Gus Hansen in February 2005.
In 2006 the Poker Superstars Invitational Tournament 2, began with 24 players at the tables. These players included Johnny Chan, Doyle Brunson, Todd Brunson, Mike Caro, Kaseem Freddy Deeb, Eli Elezra, Antonio Esfandiari, Ted Forrest, Chau Giang, Barry Greenstein, David Grey, Bobby Hoff, Kathy Liebert, Chris Moneymaker, Carlos Mortensen, John Myung, Scotty Nguyen, Huck Seed, Mike Sexton, David Sklansky, Dewey Tomko, Mimi Tran, Cyndy Violette, and Tommy Wang. Each of these competitors paid $40,000 to enter into this tournament. A time limit was new to this series, which gave each player only 60 seconds to play on their hands or they would be penalized a pre determined amount of chips for that hand.
After all eliminations the final two players left were Johnny Chan and Todd Brunson. This was Johnny Chan's year to win, and he walked away with $400,000 in prize money just from the grand finals. In addition to that he had won prize money in various amounts as he worked his way through the other tables to get to his top spot, bringing his total winnings for this tournament to $515,000.
The Poker Superstars Invitational Tournament 3 took place in February 2007. This year each poker player that entered paid $50,000 to play. The players included Johnny Chan, Todd Brunson, Freddy Deeb, Eli Elzera, Antonio Esfandiari, Chris Fergusson, Ted Forrest, Barry Greenstein, Joe Hachem, Gus Hansen, Jennifer Harman, Phil Helmuth Jr., Phil Ivey, Erick Lindgren, Mike Matusow, Chris Moneymaker, Carlos Mortensen, Danielle Negreanu, Greg Raymer, Mike Sexton, Jeff Shulman, Jennifer Tilly, Mimi Tran, and Cyndy Violette. Johnny once again made it to the semi finals, where he was defeated by Todd Brunson who that year won the grand finals.