Johnny Chan - The Teenager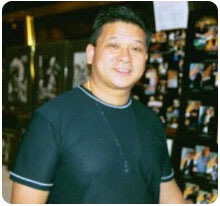 Johnny Chan settled in Houston, Texas, with his parents in 1973, after having made several moves from their native country of China. Johnny was 16 years old, attending school and helping his parents run the restaurant business they had opened. The Chan restaurant, Hoe Sai Gai, which translates to Great Whirl in English, was very successful and the Chans had a good life in Houston.
It was there, at the restaurant, that Johnny Chan learned to play poker. The restaurant had many oilmen as customers that enjoyed talking about poker. Everyone, including the customers, helpers and the Chan family, got together one night after the restaurant had closed to play the game. After that there were many evening games of poker behind the restaurant at night. In fact, there were poker games all over town, behind the pool hall, the gas stations and other businesses.
Johnny honed his poker game in Houston and became a very skilled player. He regularly won the local games and the other players were taking notice of his playing skills. It is even said that in one location, the other players did not want to lose any more money to Johnny and they told him the game was not going to be played on the regular night. Johnny decided to check and see if there really wasn't a poker game that night, and he found all the regular cars in the parking lot. The game was being played, but the other players didn't want him there because of his poker skills.
One night, when Johnny Chan was 16, he took a junket trip to Las Vegas. He put in $2,500 and received two nights and three days in Las Vegas at the Landmark Hotel. Room and board were included and so were a bunch of tickets to different things in Las Vegas. Once Johnny arrived in Las Vegas on that first trip, he was given a name tag and shown to the casino pit. When they asked him how much money he needed, Johnny said to give him whatever his limit was. They gave him $2,500, which was the amount of money that he had put in for the junket. The money was gone in no time at the blackjack and craps tables, and Johnny Chan hadn't yet realised that there were poker games in Las Vegas.
Johnny Chan left the Landmark Casino and decided to walk downtown. He saw the Golden Nugget Casino, decided to go inside and saw people playing poker. Watching the people playing, Johnny knew that he could beat them. He took out a credit card with a $200 limit, hocked his gold necklace for $120, and started to play poker with his $320 bankroll. The 16 year old teenager from Houston, Texas turned that $320 into $30,000 in a week.
He returned home, attended school and continued helping his family at the family restaurant, and would occasionally take trips to Las Vegas to play poker.
Johnny Chan had discovered Las Vegas poker, and it wouldn't be long before Las Vegas would take notice of the young Asian boy that had come to America from China in 1968.