Johnny Chan Talks About the Ultimate Advantage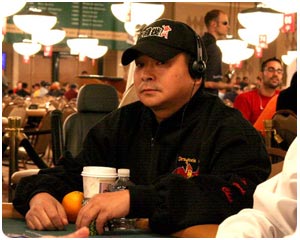 In a magazine article that Johnny Chan wrote for Trader Daily, he stresses the importance of studying , and really getting to know your opponents while mastering the trends and patterns of their game. The title of the magazine article is "Card Shark: Steal the Playbook."
In this article, Johnny Chan talks about gaining the ultimate advantage by really knowing everything about your opponents. In the world of poker playing professionals, there is only a small number of really high stake players, which means that you're going to be competing against the same players in many games and tournaments.
Johnny Chan explains the importance of researching your opponents so that you can predict their actions. Johnny Chan is a very disciplined person, and he decided very early in his career to research, understand and to examine one new player every month. He would make his selections very carefully and watch everything that person did when he was playing poker with them. Johnny Chan tells us how he would study every move the person he was researching made, how they reacted to the other players' moves, and how the other players reacted toward them. He tried to always figure out what they were thinking and how they would react in each specific situation. By the end of the month, Johnny Chan becomes very good at reading that month's opponent.
Because Johnny Chen plays in very high-stakes tournaments, there is a limited amount of players that play in those same games. Over the years Johnny Chan's knowledge of the other players became so keen that most of the time he is able to accurately understand the thinking process of most of the top players. Because of his discipline, Johnny Chan is able to quickly learn playing styles of the new players that enter into the top echelon of the poker playing world.
Johnny Chan's keen understanding of the game of poker, combined with the ability to read the other players, has earned him the title of one of the world's greatest poker players. He spent the time he needed in the early years to hone his game to perfection, and at the same time focused on the psychological aspect involved in the game of poker. He learned everything he could about the people he would be playing against, so he could not only understand their playing methods, but so that he could beat them at the game.
The methods that Johnny Chan used certainly were successful. He had been called by many people, the greatest poker player in the world. If he is not the greatest, he is definitely way up there at top of the list of the greatest poker players of all time. He is the holder of 10 of the coveted gold bracelets given to the winners of the World Series of Poker Tournaments. In 1987 and 1988 Johnny Chan won the World Series of Poker Tournament Main Event back-to-back. In 2002, this poker legend was inducted into the Poker Hall of Fame.